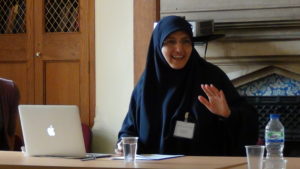 Şükran Karataş (Shukran Karatash) was born in 1950 into a Caucasian Turkish family who migrated  to Turkey in 1930s. She grow up in Ankara the capital city of Turkey. Even though she was in love with education, due to cultural, social and political injustice she was not able to carry on her education in time.
She moved to Bursa in 1978, worked during the day and carried on her education in the evenings while struggling to survive as a divorced single mother. Later on, she moved to England in 1980 still hoping to carry on her education. However, she had four kids to take care and language to learn. In the end she managed to go to university at the same time with her youngest son in 1999.
She took 'Arabic' language for her BA course at SOAS 'School of Oriental and African Studies' to be able to reach and read primary academic resources of Middle East after learning English.
She took 'Social Science' for her MA course at OU 'Open University' to be able to read and write collected datas in an academic manner. She also took many other courses relating to human psychology and biology. She is still looking for any chance to do Phd. in the relating topic. However, it proves to be difficult to find a supervisor who is expert in the field.
The book 'Deity and Freedom, Equality, Justice in History, Philosophy, Science' is the result of a long time researching, studying and writing. It looks into the meaning of deity historically, philosophically, including revelations. It finally offers scientific theories to open new doors to unite ever broken field of science and faith.
She has written other books on the side for her main aim is to search, write and share for the sake human happiness, health, wealth  and unity of humanity.